A few weeks ago, we covered the story of the underhanded attack on Donald Trump by the oh-so-estimable Globalist tool, Colon Rectum Bowell. Now comes yet another Deep State retired military mole to launch yet another ineffective and platitude-filled assault -- this time in the form of an opinion-editorial diatribe puked-out by Admiral William McRaven. Here's the nasty punchline:

"These men and women, of all political persuasions, have seen the assaults on our institutions: on the intelligence and law enforcement community, the State Department and the press. They have seen our leaders stand beside despots and strongmen, preferring their government narrative to our own. They have seen us abandon our allies and have heard the shouts of betrayal from the battlefield. As I stood on the parade field at Fort Bragg, one retired four-star general, grabbed my arm, shook me and shouted, "I don't like the Democrats, but Trump is destroying the Republic!"
You too with the anonymous sources, eh Admiral? Assuming, purely for the sake of argument, that this arm-grabbing, shouting "four-star general" quoted by Raving McRaven even exists, this quote represents the worst form selective sourcing (cherry picking) imaginable because the U.S. Military, from top-brass on down to fresh recruits, is an institution which at least 2-1 pro-Trump. Take out the "people of color" ™ and lesbian females from the military polls, and its easily 3-1.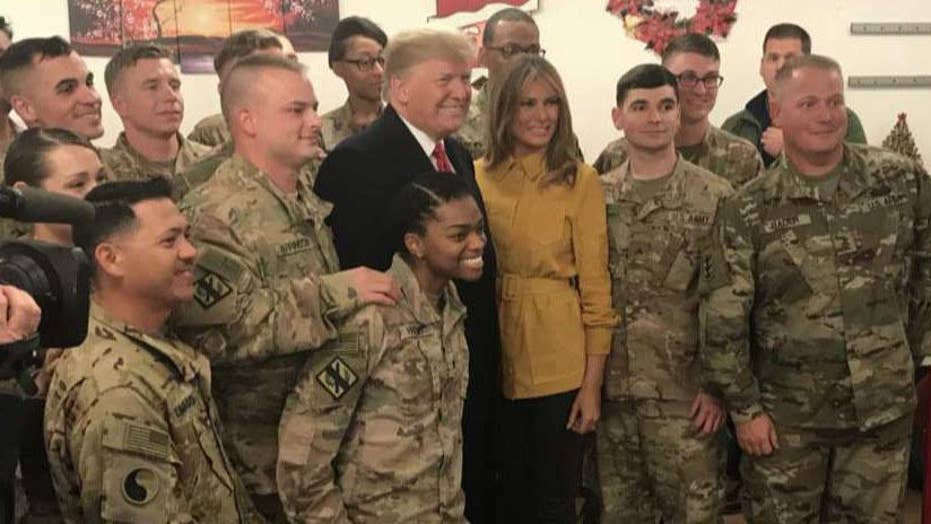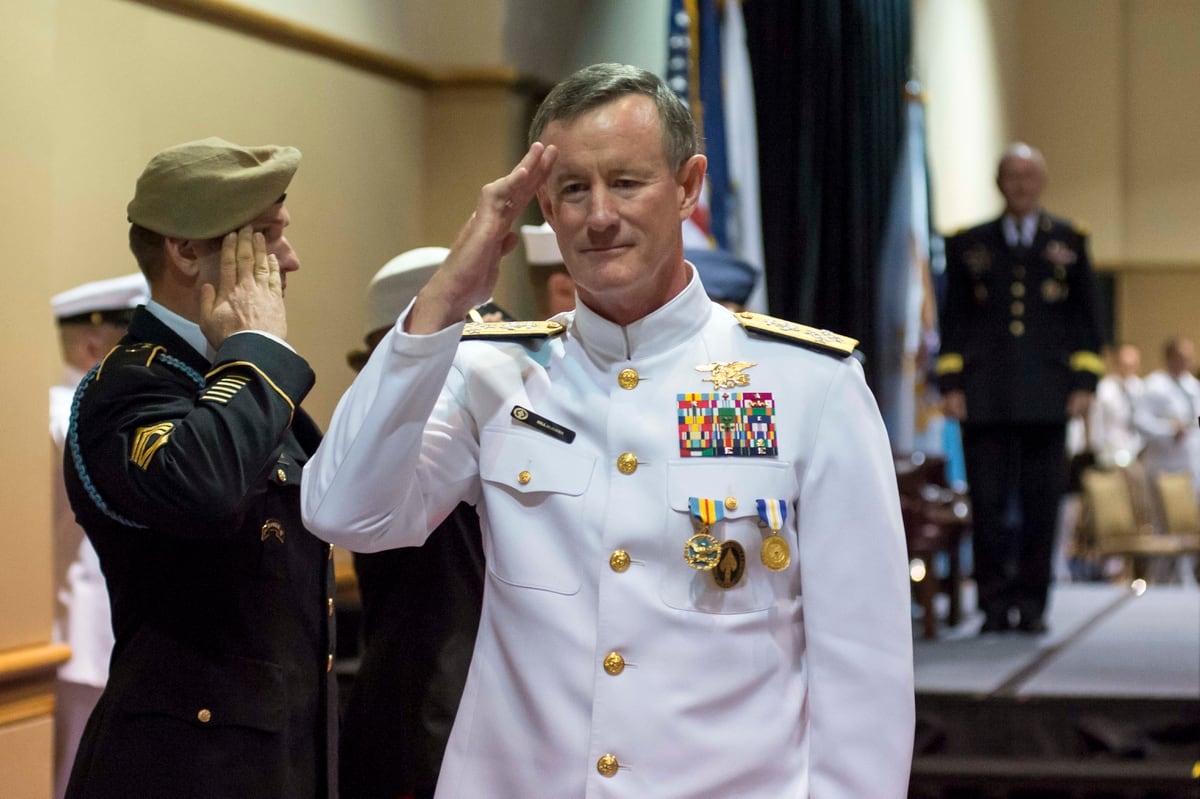 1. Most of the military is strongly behind Trump // 2. The same goes for the top brass. // 3. But only Obongo-loving anti-Trumpers like Raving McRaven gets to write Op-Ed pieces in Sulzberger's Slimes.
McRaven's ravings represent the same old-same old Globo garbage about Trump being "unfit" for office and his "abandonment of our allies" etc. Therefore, we won't get into rebutting the text of this ass-clown's hit-piece. Instead, let us expose McRaven by summarizing his close connection to Obongo and the pivotal role he played in perpetrating a 2011 hoax which saved Obongo and embarrassed then-citizen Trump.
APRIL 2011: Using press conference and TV show appearences, famous businessman and TV personality Donald Trump launches a blistering and sustained attack campaign upon President Obongo. At issue is Obongo's 3-year-old refusal to produce a copy of his Birth Certificate to dispel rumors that he was born in Kenya, and hence, ineligible to be president. Trump then publicly produces his own Birth Certificate; and on FOX's Bill O'Reilly show, challenges Obongo to do likewise:
"This guy either has a birth certificate or he doesn't. I didn't think this was such a big deal, but I will tell you, it's turning out to be a very big deal because people now are calling me from all over saying please don't give up on this issue. People have certificates; he doesn't have a birth certificate."
APRIL 28, 2011: In direct response to Trump's relentless and intensifying demands, Obongo calls a press confrence and finally releases a FAKE Birth Certificate which the Piranha Press does not question. Later that same day, Obongo, oozing arrogance and deceitfulness, appears on the Oprah Winfrey show (video here) to proclaim victory and mock Trump as a "carnival barker." Trump is subdued, but still raises questions about its legitimacy: "We'll have to see if it is proper."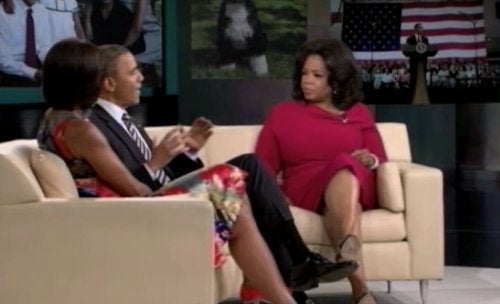 1. Internet sleuths quickly exposed the Birth Certificate as a FAKE. /// 2. Soon after releasing the phony document, Mr. & Mr. Obongo took to the Oprah Winfrey Show to mock Trump as a "carnival barker."
APRIL 30, 2011: Just two days after the release of the fake certificate, in supreme arrogance, Obongo mercilessly mocks Trump and his "conspiracy theories" at the White House Correspondent's Dinner. The audience roars in laughter as Trump, present at the dinner with his wife, stews in humiliation. (video here)
MAY 1, 2011: Just one day after the public humiliation of Trump, the make-believe "mastermind" of 9/11, Osama Bin Laden (already dead for many years!) is "killed" in a Navy Seal raid carried out in Pakistan. Out of "respect for Islam," the body is quickly disposed of -- but at sea (forbidden by Islam!) Obongo is hyped up to hero status by the Piranha Press -- "Obama killed Osama," gush his groupies. Now, Trump really can't touch him. The "birther" controversy is dead. How convenient!
1. Trump was publicly humiliated by the Imposter-In-Chief as the room full of journalists and official Washington laughed. // 2. The day after, Obongo continued on his roll by announcing the killing of Bin Laden. He was by now at peak popularity and immune to Trump's attacks.
*
Fake News about the Obongo-McRaven raid reported that an extensive collection of pornographic videos was found in Bin Laden's hideout.

*******
There is a rumor afoot, started by a retired Air Force Colonel named Field McConnel, that Obongo was recently executed , at Camp Gitmo by firing squad, on Trump's orders, a la John McStain -- and that his recent communications and infrequent images are not of him. At this time, we take no position on this claim.
*******
So, what has all this got to do with Raving McRaven, you ask? Well, about two weeks after Trump began demanding Obongo's Birth Certificate, on April 11, 2011 to be precise, McRaven was promoted, by Obongo, to Vice Admiral and also commander of USSOCOM (United States Special Operations Command.) In that high position, McRaven planned and commanded that mysterious "SEAL Team Six" raid which may have killed someone, but it sure wasn't Bin Laden!
In June, he was promoted to full Admiral. Later that same year, on August 6th, a helicopter "crash" in Afghanistan kills 15 Navy SEALS from the legendary "SEAL Team Six." (here) Reasonable speculation has it that some of those killed had participated in McRaven's phony raid which killed a phony Bin Laden. Dead Seals tell no tales!
And finally, just two days later, on August 8th, Obongo's favorite Admiral McRaven -- a notorious self-aggrandizer who, ironically, was once kicked out of the Navy SEALS for complaining about its culture - was honored by Obongo's Offense Secretary Leon Panetta at the ceremony marking his new title. McRaven took care of Obongo -- and Obongo took care of him.
1. Under McRaven, SEAL Team 6 "killed" a phony Bin Laden. Two months later, a bunch of SEALS die in a mysterious crash. // 2. Over a span of weeks, Obongo made McRaven a Vice Admiral, and then a full Admiral. // 3. Honored by Secretary of Offense (and former CIA boss) Panetta.
*
The "hero" McRaven who "killed" Bin Laden later parlayed his good fortune into book sales.