Congratulations to American ex-footballer and devout Christian Tim Tebow and his lovely South African fiance, former Ms. Universe Demi-Leigh Nel-Peters. Unjustly railroaded out of a football career, Tebow, 31, years after his 15 minutes of fame had passed in 2011-12, has been reduced to playing minor league baseball ever since --- a sport in which he does not excel. After years of struggling to find the right woman who "loves God as much as I do," nobody deserves happiness more than Tebow. Now if "youse guys" are wondering why we chose an engagement announcement as today's story, well, be patient. There's an angle (cough cough) to the story of Tim Tebow that you don't need to be a football fan to appreciate.
As a superstar college quarterback (and straight-A student) for the Florida Gators, Tim Tebow led his team to two national championships (2006 and 2008), while filling his trophy case with the coveted Heisman trophy for best college player in America as well as many other awards. In 2010, the hulking and speedy Tebow was selected in the first round of the NFL professional draft by the Denver Broncos.
The college superstar who famously wore the numbers of the bible verse, John 3:16 on his face led his team to two national championships and won the Heisman Award for the nation's best college player. In a 2009 championship game, after wearing John 3:16 on his eye black; the Bible verse was the highest-ranked Google search term over the next 24 hours, generating over 90 million searches.
After the struggling Broncos started off the 2011 season with a dismal record of 1 win and 4 losses, the young 2nd-year quarterback was installed as the starter. Through a series of suspenseful movie-like comebacks -- always accompanied by Tebow's public one-knee prayers on the field -- the seemingly God-protected quarterback led the Broncos on an improbable 6-game winning streak. The team that started the season so poorly ended up winning a division title.
As the legend of Tebow's prayerful "miracle" comeback victories developed into a national craze, Tebow's No. 15 jersey flew off of store shelves as people all across America tuned each week in to see what kind of "miracle" Tebow's Broncos would pull off next. "Tebowing", the act of kneeling before God at critical points of the game, and also after a winning score, became a national sensation emulated by young players across America. The media could neither control nor contain Tebow-mania.
Off the field, in contrast to so many of the criminals and degenerates playing in the NFL, Tebow lived out the moral precepts of the Christian faith. He spent the off season working with cancer-stricken children and orphans. Tall, handsome and famous, Tebow was never drawn-in to the playboy lifestyle -- despite having 1000's of beautiful groupie whores at his potential disposal.
As a professional player, it is indeed true that Tebow still needed a lot of polishing as a passer (thrower) --- which is usually the case for first & second year quarterbacks. But the potential for refining Tebow into a first rate QB was clearly there. So, why did Tebow's career nose-dive so abruptly after his exciting miracle run of 2011?
A truly good and humble man who helped others

*
Tebow's on-field kneeling and prayer, coupled with some amazing come-from-behind victories, inspired a national craze among young people. Everyone was "Tebowing!"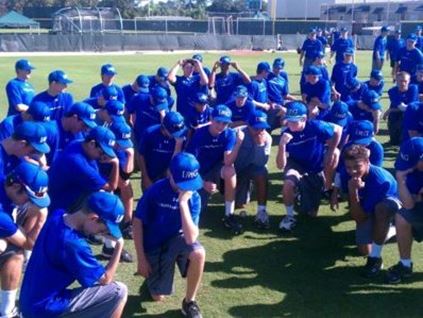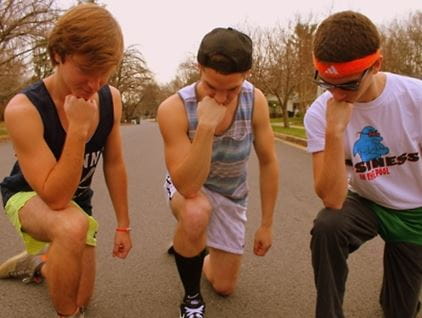 *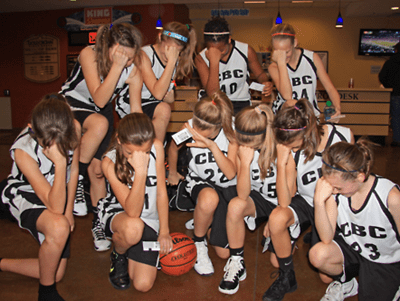 *
But not everyone was happy about Tebow-mania.

Oy vey!

At the time, of 32 NFL teams, self-chosenites owned or were presidents of 11 of them. There are actually more Jews among the NFL's 32 owners that there are among its 1600 players! And Sports journalism is every bit as kosher as news journalism. In short, an unabashed, clean living, Christian football star, praying and then performing "miracles" on the football field, was deemed "not good for the Jews." Here's the story.
On the eve of the 2010 NFL college draft, Sports Illustrated writer Jeff Pearlman (cough cough) penned an ugly hit-job titled, "I Want Tim Tebow to Fail." Pearlman:
"I have never written those words about an athlete before. Actually, I don't think I've ever written those words about a person before. But I want Tim Tebow to fail. I want a team to draft him in the sixth round, then I want him to report to training camp, throw a bunch of dying quails (bad passes) and be cut.
[…]I want him to fail in the NFL because a famous Tim Tebow is a dangerous Tim Tebow."
After Tebow was drafted in the first round, Sports radio host Fred Toettcher (cough cough) joked that Tebow's draft party was akin to a "Nazi Gathering."
Once the praying QB actually began playing (and winning in dramatic fashion), the hate machine really kicked in to high gear. In December 2011 The Jewish Week published a vicious piece of venom by Rabbi Joshua Hammerman, tittled, "My Tim Tebow Problem." Hammerman:
"I want to root for the guy, but I'm afraid of what will happen if the hulky Denver Bronco quarterback continues to pull off what is fast becoming the Greatest Gridiron Story Ever Told. Since taking over as the starting quarterback earlier this season, the Heisman winning national champion from the University of Florida has been winning consistently and dramatically, in the final minutes of the game or overtime....
If Tebow wins the Super Bowl, against all odds, it will buoy his faithful, and emboldened faithful can do insane things, like burning mosques, bashing gays and indiscriminately banishing immigrants. "
The Rabid Rabbi Hammerman's article in "The Jewish Week" is alone evidence of a plot to "get Tebow." 2 & 3. Jewish Sports media personalities Teottcher and Pearlman also showed us their hateful hand.
KILLING TEBOW
The Jew York Jets
When the Broncos were finally eliminated in the 2nd round of the playoffs, the Jewish haters breathed a sigh of relief. But what to do about Tebow for the following year? After his magical rookie season, the Broncos signed the legendary Peyton Manning, formerly of the Indianapolis Colts, to be their starting quarterback. Tim Tebow was then placed on the market for other teams to sign. Several teams expressed strong interest in Tebow, including the Jacksonville Jaguars, whose Christian fan-base, along with the fact that Tebow had starred for the Florida Gators in college, would've been a perfect fit. But the Broncos turned down Jacksonville's offer in favor of a lesser one from the New York Jets. Now why would the Jets' General Manager, Mike Tannenbaum (cough cough) negotiate so aggressively to bring Tebow to New York? A month after Tebow trade, Neil Glat (cough cough), was made President of the Jets.
Once the 2012 season began, fans were surprised to see that Tebow spent most of his time on the bench. When Jets starting quarterback Mark Sanchez faltered badly, Jets fans demanded that the team let Tebow start at least one game. But management refused, thus wasting Tebow's entire 2012 season. When the 2013 campaign rolled around, the Jew York Jets spitefully held onto Tebow until the rosters of most other teams were already full, making it very difficult for Tebow to be picked up by another team before the deadline. Tebow was then replaced by Geno Smith, a poor-playing black quarterback much hyped by the Jews sports media. On this deliberate act of career sabotage, sports writer Les Carpenter wrote:
"When the Jets fought to get him, you would think they understood what they were getting. You would guess they had a way to exploit his strengths. Instead they embarrassed him. They seemed to hate the way he drew more interest than their other players. They grumbled about the mania around him that was so great they had to hold a separate press conference for him after games in which he barely played.
Off goes Tim Tebow, the player they pursued hard but never wanted."

The Jew England Patriots
After his late release from the Jets, the New England (Boston metro) Patriots offered Tebow a non-guaranteed contract in June of 2013. The Patriots, owned by Robert Kraft (cough cough), held on to Tebow throughout the summer. Just one week before the 2013 season began, the Patriots, in spite of Tebow's solid performance in practice pre-season games, cut him near the last minute. Like the Jets had the year before, the Jew England Patriots wasted Tebow's time, but paid him nothing on his provisional contract.
The Jewadelphia Eagles

The end of Tebow's quarterback hopes came with the Philadelphia Eagles, who signed him for a one year contract in 2015. The Eagles, owned by Jeff Lurie (cough cough), picked-up Tebow in April, and fired him just a few days before the NFL season officially started in September. Despite improvement in his accuracy in pre-season games, the Eagles claimed he was unfit for his intended role as a third-string back-up quarterback. Yeah, right!
So, you see, boys and girls --- of all the NFL clubs, particularly in the south, that could have signed Tebow, it was three northeastern teams -- controlled by the usual suspects -- that pursued him most aggressively, and then tossed him among themselves so that other teams could not sign him. How conveeenient!
Jew Tannenbaum of the Jets, Jew Kraft (with Israeli Prime Minister Satanyahoo) of the Patriots, and Jew Lurie of the Eagles. They toyed with the Christian hero -- keeping Tebow on the bench until he was no longer marketable.
The NFL Jews NEVER wanted Tebow. Their purpose was to "give him a chance," before cutting him and thus tarnishinhg his reputation as a player who hadn't played in three years. In support of this anti-Christian plot was the Jewish sports media which spun the end of Tebow's career as the result of "flaws" in his performance. What "performance?" In spite of the optimistic claims of private trainers who worked with Tebow to fine tune his game, the northeastern owners / general managers never even gave him a chance!
The pre-meditated killing of Tebow's promising career and on-field "ministry" is a sad story of religious persecution against a Christian gentleman -- carried out by the very same greasy bunch that's always whining about "persecution." And that is why we are so happy that he has found such a beautiful and devout wife that he can finally start a family with.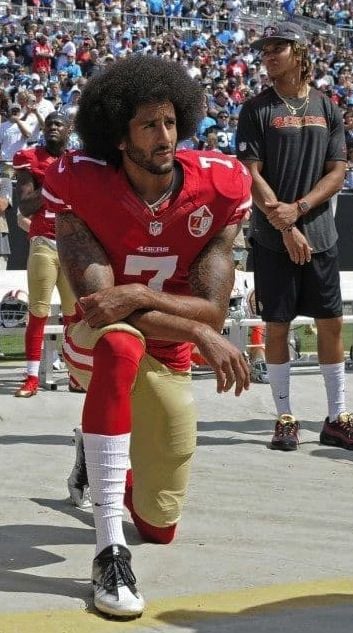 1 & 2 - Tim Tebow, 31, engaged to former Miss Universe Demi-Leigh Nel-Peters, 23, of South Africa // 3. Tebow's one-knee prayer ritual was soon replaced by Colin Commie Kaepernick's one-knee anti-national anthem, anti-cop, anti-white ritual -- which the Jew owners and the Jew sports media had no problem with!