Have youse guys heard? It's been all over the Fake News. For the second time in recent weeks, degenerate Marxist Barack Homo Obongo -- that permanent shit-stain on the fraying fabric of American history -- actually expressed concern over the Demonrat Party drifting too far to the left. Here's the quote, spoken in front of a group of Dem donors a few days ago:
"This is still a country that is less revolutionary than it is interested in improvement. They like seeing things improved, but the average American doesn't think we have to completely tear down the system and remake it."
And less than three weeks ago, Obongo had this to say about the silliness of "woke" culture (leftist political purity) and the need to understand opposing viewpoints:
"This idea of purity and you're never compromised and you're always politically woke, and all that stuff, you should get over that quickly. The world is messy. There are ambiguities. People who do really good stuff have flaws. People who you are fighting may love their kids, and share certain things with you."

These comments have further widened the growing divide between the "revolution-now" mainly millennial wing of the Demonrat Party and the more pragmatic "evolution-not-revolution" baby-boomer faction. They are all despicable and debauched Satanic commies, of course. They just differ on tactics and timetables.
Regular readers of The Anti-New York Times don't need to be told what Obongo truly was. But unlike the current crop of Demonrat candidates for QFS 2020, Bolshevik Barry knew when and how to dial-back on his radicalism so as not to shock the American public. Even still, his social and economic policies contributed to many Republican Congressional victories in both the 2010 and 2014 mid-term election.
We're not quite sure what to make of this Communist con-man's chastisement of the "far Left," but we have two operating theories. One possibility is that Bathouse Barry may be trying to tell Demonrats: "You people are doing this all wrong. If you want to win, do I like I did. Conceal your radicalism. Speak like a moderate to Middle America, and then, once you get in office, quietly push leftward as far and as fast as you can."
Or, perhaps Obongo is trying to sink the whole rotten field of commie clowns in one swoop in preparation of a brokered Demonrat convention which will anoint his sainted "wife" -- you know, "Big Mike" -- as the oh-so-reluctant nominee / savior who will face Trump in the 2020 QFS (Quadrennial Freak Show) grand finale. Indeed, the steady clamor to draft Big Mike, which began a few months ago, seems to be growing. Some headlines:
Los Angeles Times (August 24, 2019): Michelle Obama for President. The Only One Who Can Beat Trump?
Inside Edition (October 7, 2019): Could Michelle Obama Be the One Person Who Could Beat Trump in the Election?

Daily Express (UK) (October 27, 2019): Michelle Obama Urged to Run for President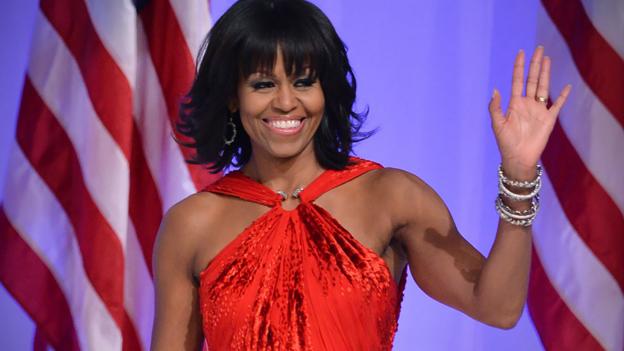 1 & 2. Will Big Mike muscle her, his, its way to the Demonrat nomination? // 3. Low IQ Los Angeles barber shop owner mimics a poster of Big Mike portrayed as Rosie the Riveter that hangs on the wall of his shop.
*
1. Listed at 5' 11" with an 11.5 shoe size (here), Big Mike towers over actress Sarah Jessica Parker while sporting his street-walker-hooker boots. // 2. Big Mike crushes it at the gym. // 3. Big Mike has had many "oops" moments.
Big Mike has repeatedly insisted that that he has absolutely no interest in running for president. The denials could either be sincere, or just part of the "reluctant warrior" strategy. We'll see. Be that as may, Demonrat primary voters would indeed instantly elevate him to the top spot -- with about half of the God-forsaken voting population of this diseased society actually voting for this nasty, unaccomplished, self-absorbed, money-hungry, dim-witted, deranged, America-hating, anti-White freak. You know, one could at least understand how the superficial simpletons of America could mistake Killary Clinton -- as vile, stupid and evil as she is -- for a somewhat normal, somewhat serious, and somewhat intelligent woman. But Big Mike? Really? The world class make-up artists and wardrobe consultants who have done an amazing job of presenting this buffoon as a female still cannot conceal his stupidity, his insanity, his indecency, his barely veiled hatred for America -- and, of course, his penis.
Among Black females, Big Mike is a wig-wearing goddess. However, millions of deluded center-to-left White women have also been trained to obediently fawn over this made-for-TV beast as though he was one of their own. This felonious phenomenon is evidenced by the massive sales of her recent book, "Becoming." Interesting title -- as in "becoming" a woman, eh Big Mike?
*
IMAGES FROM BIG MIKE's MULTI-MILLION DOLLAR BOOK TOUR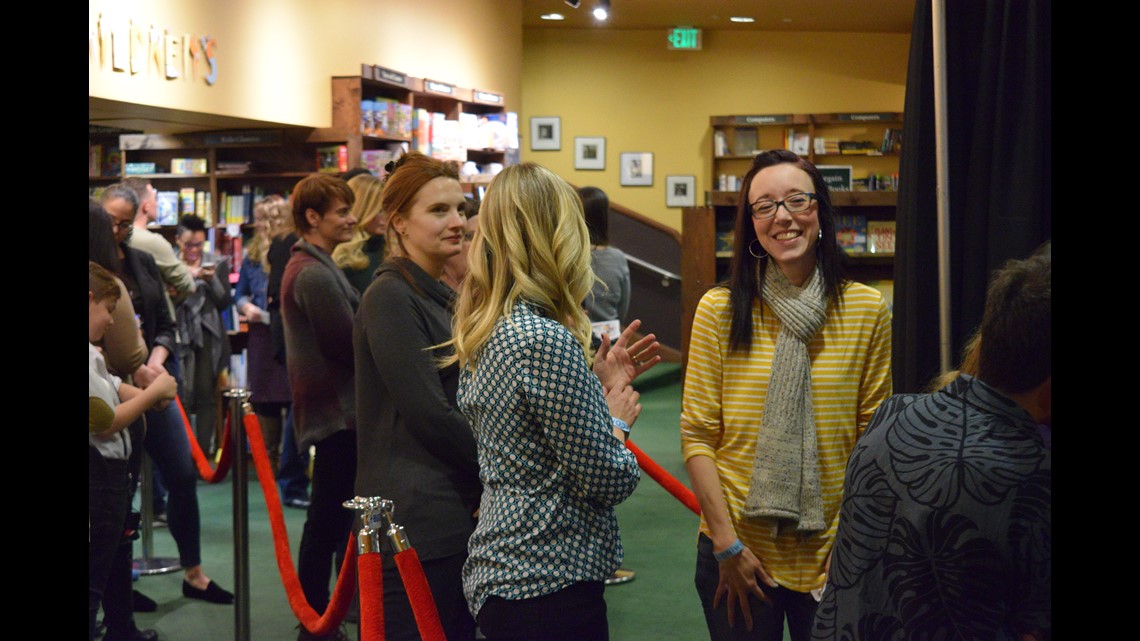 Millions of angry Black females and millions more silly-ass, virtue-signalling suburban White women would make Big Mike a force to be reckoned with. Is that why Barry Obongo is suddenly disparaging the current field of Demonrats?

*
Boobus Americanus 1: I read in the New York Times today that Barack Obama is warning Democrats not to be so radical.
Boobus Americanus 2: Obama was always a sensible man. I miss him.
St. Sugar: Boobuss, you frickin' ssimpleton! Obongo had uss on the brink of economic collapse and World War III!

Editor: And Big Mike would take us right back there, and worse --- but so would any other Demonrat.
COMMENTS / FEEDBACK / INSULTS / KUDOS
E-mail: GreatTomatoBubble2@gmail.com