William Utermohlen

ARTIST WITH DEMENTIA PAINTED JUST LIKE PICASSO!

By Mike King
Just recently, and quite by accident, your humble webmaster came to learn of the fascinating story of William Utermohlen, a London-based American artist diagnosed with Alzheimer's disease in 1995.
.
.
Upon learning that he was on the road to dementia, Utermohlen began work on a series of self-portraits.
His very first self-portrait is discernible and realistic. (see below)
.
.
But as his dementia progresses, Utermohlen's images become more and more abstract and unrealistic. The artist pursued this project, adapting his style to the growing limitations of his perception and skills, until he could no longer paint at all. He died in 2007.
.
The works of Utermohlen's final years form a sad and powerful progression that document his mental descent and struggle with dementia. In a 2006 story headlined, Self-Portraits Chronicle a Descent Into Alzheimer's, The New York Times quoted Dr. Bruce Miller, a neurologist at the University of California, San Francisco, in describing Utermohlen's artistic decline:
.
"Alzheimer's affects the right parietal lobe in particular, which is important for visualizing something internally and then putting it onto a canvas. The art becomes more abstract, the images are blurrier and vague, more surrealistic." (emphasis added)
.
Indeed, the most striking aspect of Utermohlen's pitiful descent is that his demented self-portraits closely resemble those of the sainted Communist artist, and cultural icon of the New York Times, Pablo Picasso! Have a look:
.
*
UTERMOHLEN SELF-PORTRAITS
(As his dementia progresses from left to right)
*
PICASSO SELF PORTRAITS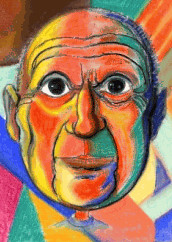 .
What irony! Utermohlen's dementia-induced abstractions serve as objects of pity and a study in dementia, yet Picasso is puffed up as the greatest artistic 'genius' of the 20th Century. What does that say about our modern "art world"; a world which idolizes the "talents" of Picasso?
FROM NWO FORBIDDEN HISTORY:
ROCKEFELLER BROTHERS TRUST FUND FUNDS THE MUSEUM OF "MODERN ART"
GLOBALISTS AND COMMUNISTS CORRUPT TRUE ART WITH MODERN FILTH BY PICASSO & OTHERS
Abby Aldrich Rockefeller (wife of John D. Jr. and daughter of Senator Aldrich) developed the idea of establishing a Museum of Modern Art in New York City. The museum opened to the public on November 7, 1929. From the very beginning, this cesspool of "modern art" is a Rockefeller directed organization.
Abby's son Nelson becomes the museum's President in 1939. In 1947, The Rockefeller Brothers Trust Fund begins pouring cash into the promotion of their House of Horrors. Upon becoming Governor of New York State, Nelson's younger brother David takes over in 1958. David and Sharon Percy Rockefeller (wife of Senator Jay Rockefeller) sit on the Board to this day.
The Globalists and the Communists use "modern art" to corrupt the beautiful western culture that they seek to destroy. Not wanting to appear "unintellectual", millions of simple minded fools marvel at the junk on display in New York.
The incomprehensible and ugly works of the Communist artist Pablo Picasso have been heavily promoted by Rockefeller and his New York Globalist ilk. The media-hyped Picasso was an admitted admirer of Joe Stalin, and a recipient of the Soviet "Peace Prize".
REAL ART BY NORMAN ROCKWELL vs MARXIST CRAP BY PABLE PICASSO
Painting by American Norman Rockwell