Need we say anything more? In fairness, there were a few Jews who posted that she was being disrespectful. But we are most grateful to the proud commenters for showing us the true intolerant colors of some of the chosenites (this is why people don't say "Merry Christmas" anymore!). For strategic reasons, not all of their brethren are in a position to be so openly anti-Christian.
After the photo and story circulated on Jewish websites, Israeli officials went in to damage-control mode, claiming that the Pope was not concealing his crucifix (a sinful idol for observant Jews) but was only trying to stop it from swinging. But previous similar incidents involving the Fake Pope and chosenite visitors indicate otherwise:

The Kosher Cleric tucks his crucifix in his belt so as not to offend his owners.
This evil-doing deceiver dubbed "The New World Pope" knows exactly what he is doing. The eye-popping manner in which the emissaries of International Jewry adoringly swarm about Satan's Pope like flies on feces constitutes all the visual evidence we need. If a picture is worth a 1,000 words, the following images are worth 1,000,000.
1- As an Argentine Cardinal, Jorge BERGoglio often visited synagogues and lit Menorahs.
2- Satan's Pope is given a Menorah by Satan's Prime Minister.
*
More gifts and hugs from the 'all-of-a-sudden' admirers of the Papacy
*
Bowing before Peres and the Holocaust-TM Remembrance Wall as Palestinians are slaughtered and Israel threatens to bomb Iran. How low can one go?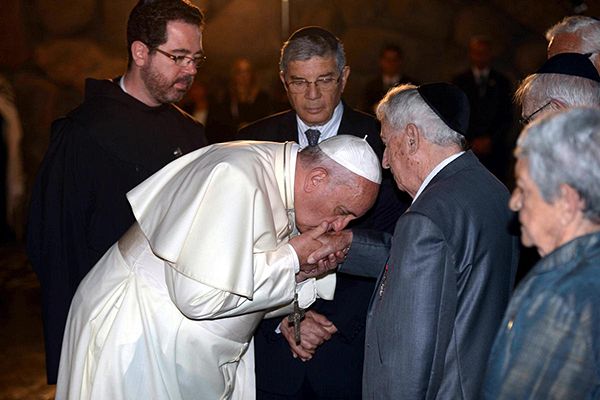 Frankie Fake goes down on the whole "Holocaust-TM line - degrading his own church as he bows and kisses the hands of multiple "survivors". Oy vey!
Please don't offend the blood-sucker with your crucifix! In the original Dracula Movie (1931) - Bela Lugosi wore a Star of David.