Back in September, 2016, Sugar the crazed Conspiracy Cat insisted that we do a piece on the odd timing of the sudden and much-publicized release of John Hinckley Jr. from the insane asylum. Hinckley, you will recall, was the man who shot and nearly killed President Reagan in 1981. "It'ss a Ssicilian messsage to Trump!" -- Sugar hissed.
As founder of The Anti-New York Times and a responsible journalist, I vetoed her request. Now, with the equally well-publicized recent news of Jodie Foster leading a pre-Oscars anti-Trump rally in Hollyweird, the intuitive little creature is hissing "I-told-you-so's" at me --- and this time, I am compelled to have to admit that the animal instincts were right back in September.
Never under-estimate the instinctive intelligence of an animal.

*
What makes Foster's sudden leading role in the anti-Trump drama especially curious is the fact that she, unlike so many of her CIA-Hollyweird colleagues, has never been known to engage in leftist activism -- a fact that she herself pointed out while addressing the rally:
"As many of you know, I don't do this very often. I'm not somebody who feels very comfortable using my public face for activism."
The creepiest line of Foster's rant about "resistance" began with a morbid embedded term:
"As the very, very dead Frederick Douglass one said,...

No mistaking the meaning there! Although it was partly said as a joke because Trump recently mispoke and suggested that Douglass was still alive.
Three rapid references to the Illuminati followed:

"Anytime is a good time for illumination, and this is the time for illumination. I believe this time is filled with light."
The Illuminated Eye of one-dollar bill fame is a symbol of the secret socities behind the New World Order.

And yet another cryptic reference to presidential assassinations:
"So you're going to remember where you were today and what you did."

In case you missed the subtle hint there, one the most worn-out cliches about the 1963 assassination of John F Kennedy is: "Everyone remembers where they were when Kennedy was shot."

For those of you too young too remember or fully appreciate the significance of Jodie Foster with respect to the assassination attempt on Reagan, a crash-course is hereby presented to better "illuminate" your understanding.
Hinckley and Foster -- forever linked to the Reagan shooting -- were both recently in the news.

Just 69 days into the presidency of the anti-Establishment Ronald Reagan, Hinckley fired his pistol at Reagan. A policeman, a body guard, and Reagan's Treasury Secretary were badly injured. Reagan himself was hit by a ricocheting bullet that punctured his lung and came within inches of killing him, and inches from making Globalist CIA man George H.W. Bush the new President.
The reason that Hinckley gave for his action was that he wanted to prove. his love for the then-17-year old Jodie Foster. On the day he shot Reagan, he wrote to her: "As you well know by now I love you very much. ... Over the past seven months I've left you dozens of poems, letters and love messages in the faint hope that you could develop an interest in me."
And for that reason, the names of John Hinckley and Jodie Foster will be forever be linked to the infamous televised assassination attempt of 1981.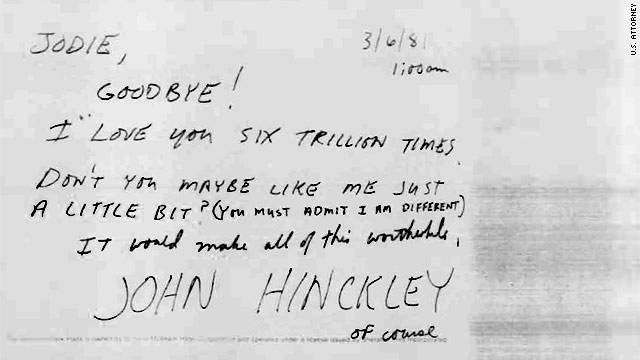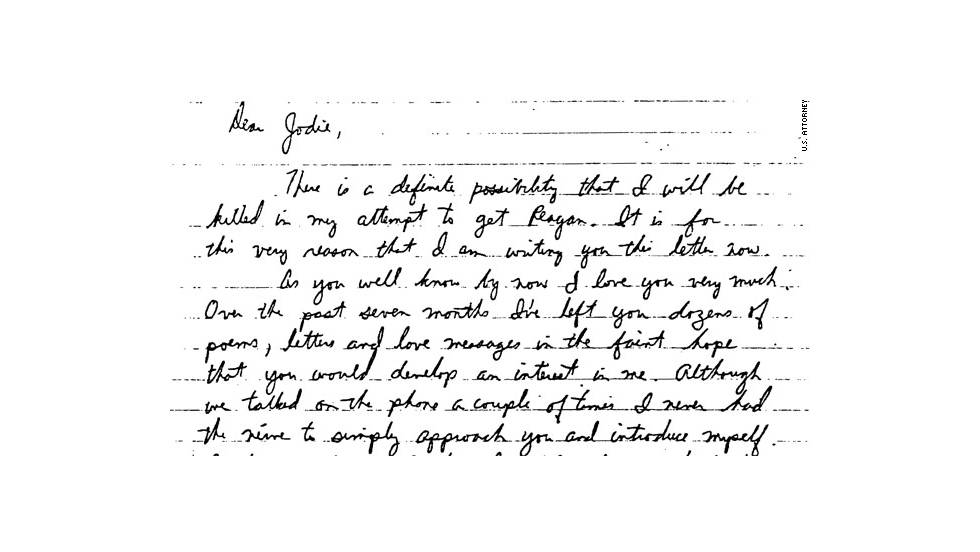 Hinckley (or his handlers) wrote many letters to Foster --- including one in which he proclaimed, in all caps, "I love you SIX TRILLION TIMES" --- hmmmm, a little Jewish mysticism there?
Hinckley's brother, Scott, was an oil executive. The Hinckley's, like the Bushes, made their money in oil. It was confirmed by the Associated Press that Scott had been scheduled to dine at the home of Marvin Bush, one of George Bush's sons, the night after the event took place. The Hinckleys were also big contributors to the Bush campaign. Was there a connection between the CIA Bush Family and the psychotic Hinckley's attempt to kill Reagan?
After the initial AP report, the connection was never pursued again. What did come out of the assassination attempt was a much more "moderate" and much less "anti-Establishment" Ronald Reagan. His presidency, though an improvement over that of CFR-Trilateralist Jimmy Carter, would do nothing to actually reverse America's march towards Globalism and socialism.
So, what can the sudden release of Hinckley followed by the sudden anti-Trump activism of Foster mean? It means that Conspiracy Cat, as usual, was right. The message to Trump is simple, "moderate" your love for Putin and opposition to One-Worldism, or die.
In exchange for Republican-Globalist-Establishment support, Reagan was forced to put Bush on the ticket in 1980. In 2016, Trump was similarly forced to select the stooge Pence as his running mate. --- Beware the Ides of March, Orange Man!
*

COMMENTS / FEEDBACK / INSULTS / KUDOS
greattomatobubble2@gmail.com