Right up until the time of John McCain's death in August, 2018 -- which Q Anon cryptically claimed to be a secret execution for treason -- both Q and Donald Trump refused to utter the name of that rancid evil monster. Q posts only referred to the Republican't Arizona Senator as "no name," and Trump, on several occasions while referring to his hated enemy, said "We don't like to say his name."
Recall this controversy from last year?
Headline: New York Post (August 13, 2018): Trump Signs Bill Named After McCain, Doesn't Mention Him
Headline: New York Times (August 13, 2018): Trump Talks for 28 Minutes on Bill Named for John McCain. Not Mentioned: McCain.
With this historical context in mind, we can now clearly see that the covering up of McCain's name and the isolation of the ship bearing it were part of a deliberate continuation of Trump's decree that the name not be uttered or seen. It reminds us of that scene in the classic fim, "The 10 Commandments," in which the Pharaoh decrees that the name of Moses (Charlton Heston) must never be spoken again. It is the ultimate show of disrespect. We are approaching one year now since that rotten Son-of-Hell was taken out and Trump is still shitting on McStain's grave -- a grave which, in spite of his phony "war hero" status, is not at the coveted Arlington National Cemetery for military men!
1 & 2. Pharaoh Trump was serious about his "no name" decree! // 3. Not only did Trump evidently deny McCain a place at the hallowed grounds of Arlington National Cemetery; but McCain's grave at the Naval Academy looks like that of anybody else. Two whole months passed before a headstone was even placed, and there is no indication that any "war hero" is buried there.

The Piranha Press may be up in arms over this latest disrespecting of the dirty warmongering piece of filth who was their "favorite Republican," but "The Editorial Board" here at The Anti-New York Times is lovin' it! Sense the Slimes' displeasure from this article:
"The White House's directive to hide a Navy destroyer named after Senator John McCain during President Trump's recent visit to a naval base in Japan was driven, administration officials said, by a fear of bad visuals — the name of the president's nemesis clearly visible in photographs of him.
In truth, it would have been a bad visual for only one person: Mr. Trump.
Yet an effort to airbrush an American warship by covering its name with a giant tarp and then hiding it with a barge demonstrates how anxious the Trump administration has become about the grudges of the president. ... Sailors from the McCain were not invited to Mr. Trump's speech on another ship, although crew members from most other American ships at the base were."
But is Trump really being petty and holding "grudges?" Or is he only giving the memory of a dead traitor the complete and utter disrespect that so he richly deserves?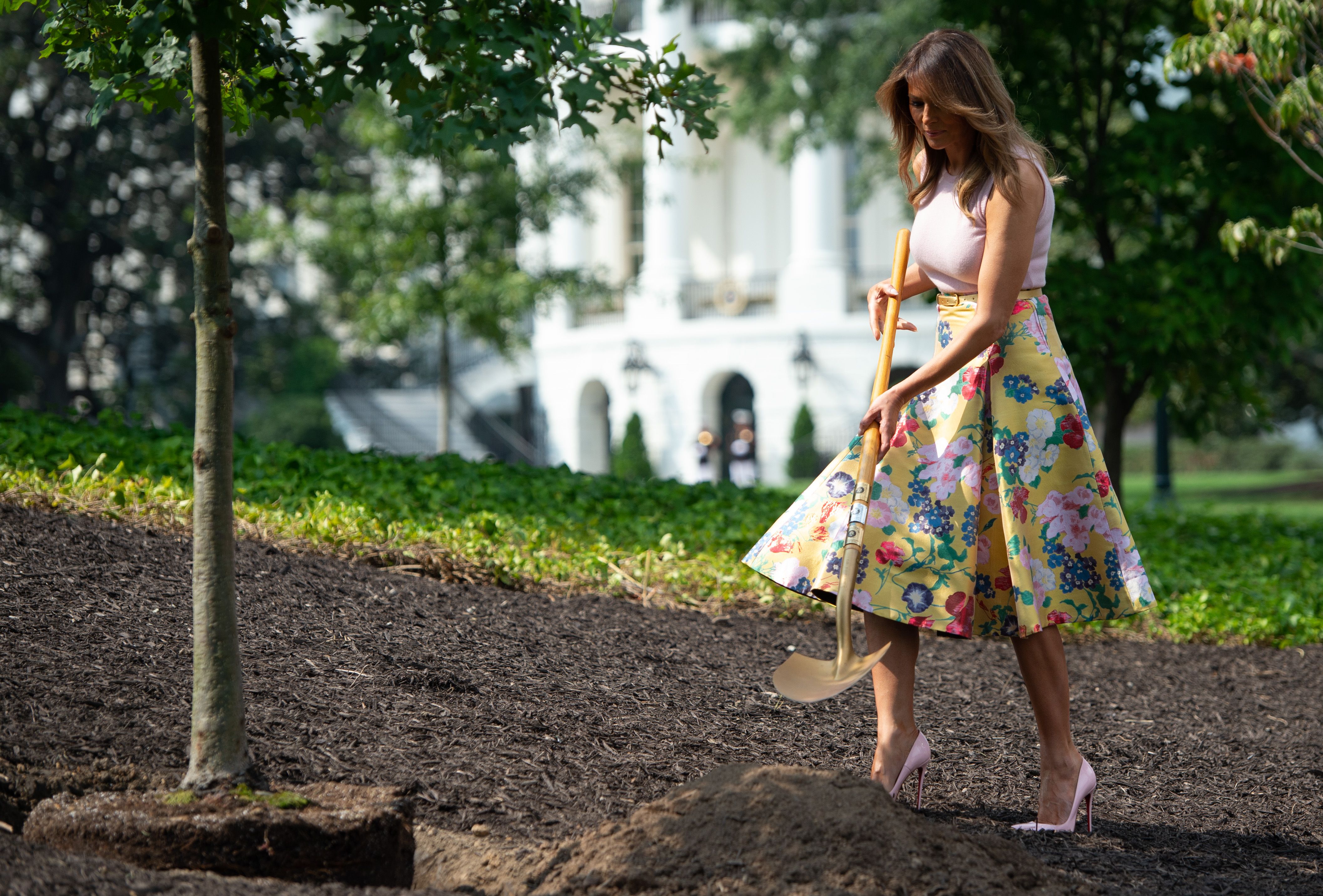 1. August, 2018 : As McCain's body began its Arizona to Washington viewing trek, and as Trump paid no tribute to the dead Senator --- Melania Trump symbolically helped to plant an "Eisenhower sapling" in what looked like a rectangular grave. The sapling, born from the Eisenhower Oak Tree on the White House grounds, symbolizes that Admiral John McCain, the traitor and father to Senator McStain, was wholly made by President Dwight Eisenhower. And now, "the sapling" John McStain was being buried.

Lest anyone think that Trump has gone too far in beating the stinking putrescent carcass of this dead jack-ass, a quick, bullet-point review of McStain's record of infamy is in order:
Entitled son of an Admiral who graduated 4th from the very bottom of class at the Naval Academy
Crashed 4 navy planes --- reputed to have started a ship fire while "hot-dogging" -- killing many sailors
And there's more --- much more. Good riddance to this evil treasonous bastard swine -- and even better riddance to the memory of his name. Thanks Trump.
Trump warns McCain: 'Be careful because at some point I fight back.'
"He was taking shots at you again yesterday," Plante said. "You heard what he said yesterday, Sen. McCain?"
"Yeah, well I hear it. And people have to be careful because at some point I fight back," Trump said. "I'm being very nice. I'm being very, very nice. But at some point I fight back, and it won't be pretty."